Commodities
A look back at the first quarter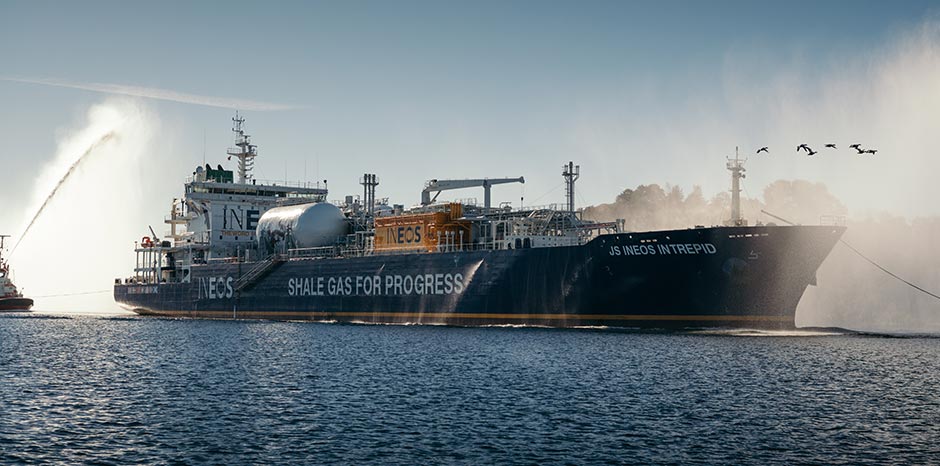 Shale gas from the United States arriving off the coast of Norway. KEYSTONE/LAIF/Ilja C. Hendel
In his analysis of the commodities markets, David Lincke, Head of Portfolio Management, finds mixed results for the first quarter of the new year. Price gains were only seen in energy commodities and grains.
At the end of the first quarter, commodity markets offer a mixed picture. The strong upside dynamics of H2 2017 saw little follow-through with most sectors entering consolidations. In March, following the setback in February, only the energy sector managed to stage a meaningful recovery. Correspondingly, those strategies and benchmarks excelled in Q1 which exhibit a particularly energy-heavy profile or that exclude agricultural commodities from their allocation. Thus, the broadly balanced Bloomberg Commodity TR index tended weaker again in March declining by -0.62% (Q1 -0.40%) while the S&P GSCI Commodity TR index advanced by +2.22% (Q1 +2.19%). Among our own commodity strategies, the PACI strategy underperformed in March (-1.21%) and for the first quarter (Q1 -1.85%) while the PA Energy & Metals strategy added +0.43% in March and managed to outperform its benchmark for the full quarter (-0.64% vs. Bloomberg Commodity ex-Ag ex-LS TR -1.12%).
Crude oil hits another high in January
At the sector level, merely energy commodities and grains recorded price increases for the first quarter. Crude oil and product prices nearly recovered the highs set in January after a resumption of inventory withdrawals calmed market fears over escalating US shale oil production growth and Saudi Arabia signaled a continuation of tight production discipline among OPEC members. Meanwhile, worries of an impending slowdown of global growth maintained pressure on base metal prices. Nonetheless, certain metals such as nickel offering a unique demand growth story have proven to be able to diverge positively. Against the backdrop of a relentless rise of short-term interest rates (USD LIBOR) and a stabilizing dollar while inflationary pressures remain contained so far, precious metal prices have exhibited surprising resiliency. Adverse weather conditions in the southern hemisphere have buoyed agricultural commodities and in particular grain prices at the start of the year. More recently, however, La Niña conditions have begun to normalize and market uncertainty has been stoked by a broadening of US-China trade disputes to encompass agricultural commodities such as soybeans and cotton. Furthermore, the soft commodity sector continues to be weighed down by supply surpluses of raw sugar and coffee that overshadow constructive fundamentals for cocoa and cotton.