Road show
Great interest in India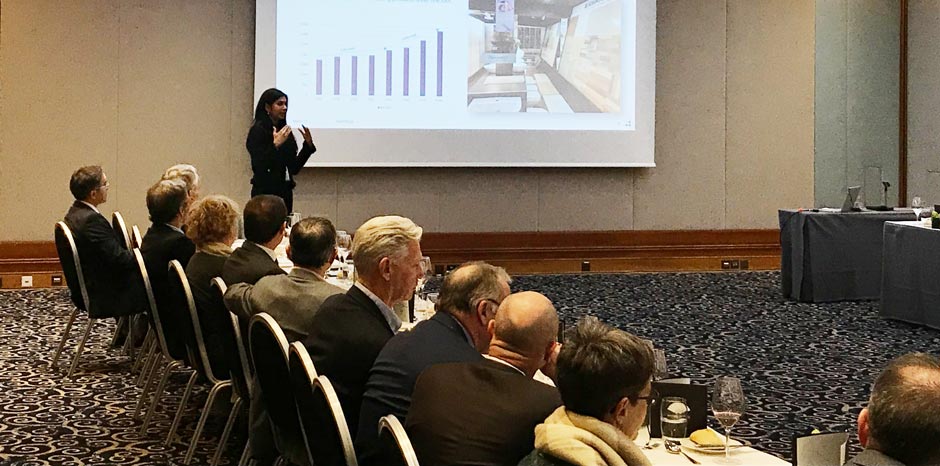 Presentation of the Padma India Fund at our road show in Geneva. Photo: Picard Angst
Picard Angst presented the Padma India Fund to over 100 interested investors in Geneva, Bern and Zurich in March. The fund, which invests in Indian small and mid caps, was the most successful fund of its class in 2017 with a return of over 55%.
India will be the third-largest economy in the world by 2025. Its fast growth offers huge potential for investors. "The maths is simple," said Chrys Kamber at the beginning of her talk. "India has 1.25 billion people, and over half of them are under 27 years old." But demographics are only one of the drivers behind India's economic growth. Economic liberalization and the Modi government is another factor. Infrastructure investment and the promotion of innovation are important aspects as well.
Exciting meetings
During the second half, the fund manager talked about meeting with representatives from some of the companies in which the Padma India Fund invests. The fund manager regularly visits the SMEs, which were selected after a rigorous, multi-step process. These companies are usually owner-operated, free from debt and active in sectors with strong growth. Among the companies presented were a supplier for the booming automotive industry, a pharmaceuticals company and a financial institution.
Have we piqued your interest? Don't hesitate to contact us directly.