Commodity June 2018
Will Russia and OPEC increase their production quota?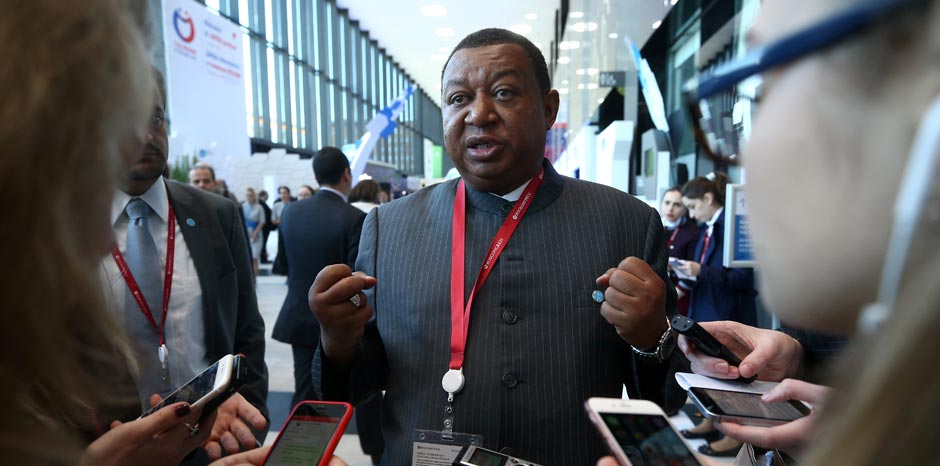 OPEC and Russia are considering to ease their restrictions on oil production by up to one million barrels per day. OPEC Executive Secretary Mohammed Barkindo speaks to the press at the International Economic Forum in St. Petersburg in May 2018. YEGOR ALEYEV TASS
The energy sector continued to grow in May. Inventories are decreasing, inflationary pressures and geopolitical risks are driving up prices. Are Russia and OPEC taking countermeasures? David Lincke, Head of Portfolio Management on commodity markets and the success of Picard's commodity strategies in May.
The positive momentum across most commodity markets saw a continuation in May with the energy sector continuing to spearhead the gains. But it is also the ongoing build-up of inflationary pressures that is lighting a fire under commodity prices and has helped to keep the headwinds from a rising dollar in check.
Risks in the energy sector are increasing
The US withdrawal from the multilateral nuclear agreement with Iran has prompted an escalation of geopolitical risk in the energy sector in May. Our price target of USD 80 per barrel Brent under such a scenario was reached sooner than expected. However, towards the end of the month a good part of the price gains was relinquished (PACI Energy TR sub-index: +3.82%, YTD: +14.65%). Catalyst for the price correction was news that Saudi Arabia and Russia are considering to loosen the production cuts by 300 kb/d to 1 mb/d at the upcoming review of the OPEC-Russia agreement.
Might there already be a supply bottleneck at the beginning of 2019?
OPEC has more than achieved its goal of reducing global oil stocks reserve down to the long-term average level. To a significant degree, the market rebalancing is to be credited to robust demand growth especially in emerging markets where further unimpeded energy price inflation could dampen economic activity.
Given the aggregate over-compliance with OPEC quotas (172% in April) due to production disruptions (in particular in Venezuela but prospectively also in Iran) even a production increase of 1 mb/d would merely serve to re-establish the originally intended degree of supply restriction. Maintenance of the current degree of production restraint would risk a critical level of OECD inventory depletion by Q1 2019.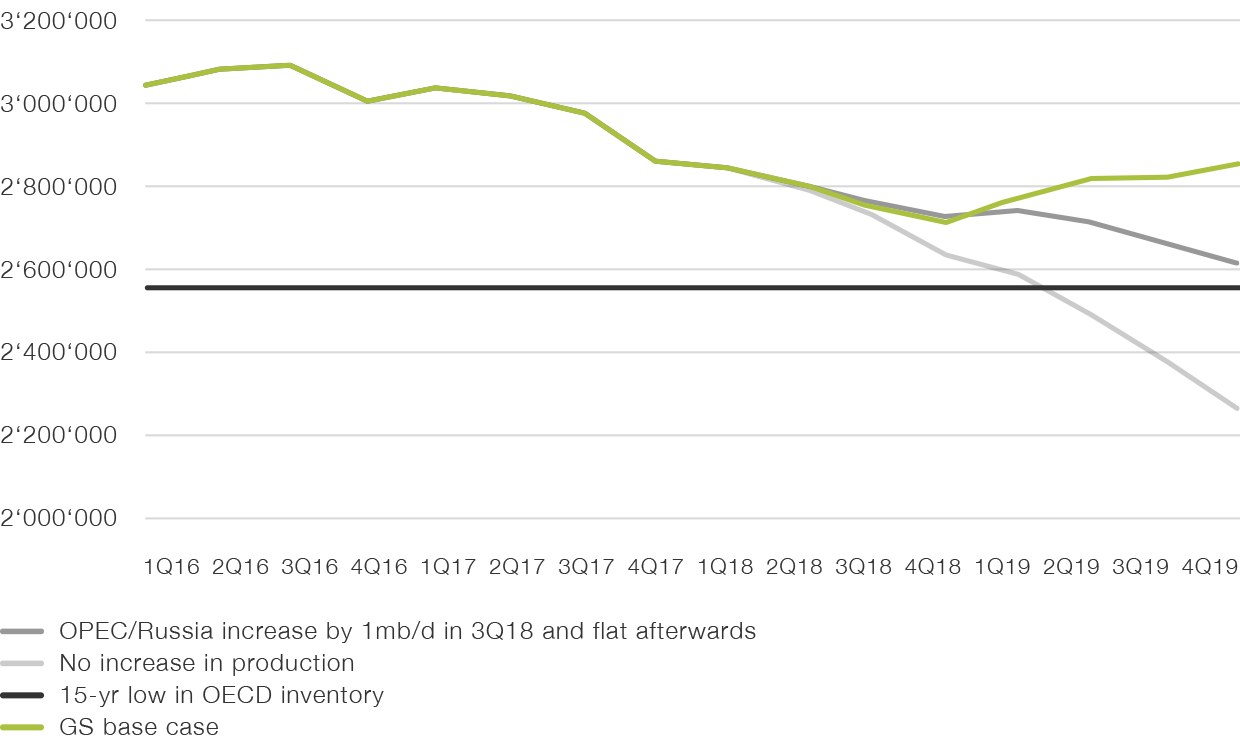 A significant retrenchment has taken place from the extremes of investor net length built up over recent months. This mitigates the potential for a deep price correction and, combined with elevated roll yield of as much as 15% p.a., should help Brent crude oil prices find support between USD 70 to 75 per barrel.
Fulminant comeback for sugar
In the industrial metals sector, on the other hand, politically induced disruptions abated. Nonetheless, base metals saw broad-based gains as the global growth outlook improved. Precious metals did not fare as well, however, as the strengthening US dollar proved a formidable opponent that not even a re-escalation of EU political risk due to the formation of a populist government in Italy could surmount leading to a moderate loss. The agriculture sector was characterized by a furious comeback of some of the losers of the year so far. Sugar prices, in particular, staged a strong comeback despite an ongoing severe supply overhang, while major grains traded mixed for the month.
Picard Angst strategies remain one step ahead
Returns of major commodity benchmarks finished in a narrow range in May. While the Bloomberg Commodity TR and S&P GSCI Commodity TR index gained +1.42% and +1.45%, respectively, while the Picard Angst commodity index PACI strategy slightly outperformed both indices, gaining +1.61%. Ex-agriculture strategies again outperformed their broader peers extending their year-to-date lead. In May, the Picard Angst Energy & Metals Index (PNMI) clearly outperformed the two benchmarks Bloomberg Commodity ex-Ag ex-LS TR (+1.75%) and S&P Energy & Metals TR (+1.43%) with an increase of +2.21%.